Oldest Quran manuscripts — Quran of Osman and Quran Katta Langar to be presented in Tashkent
On August 23, participants of the Cultural Heritage Week "Uzbekistan – crossroads of civilizations and roads: empires, religions, cultures" will be able to see two oldest Quran manuscripts in the world – Quran of Osman and Quran Katta Langar.
National Association of Electronic Mass Media (NAEMM) have implemented a project to search for traces of the legendary Quran Katta Langar.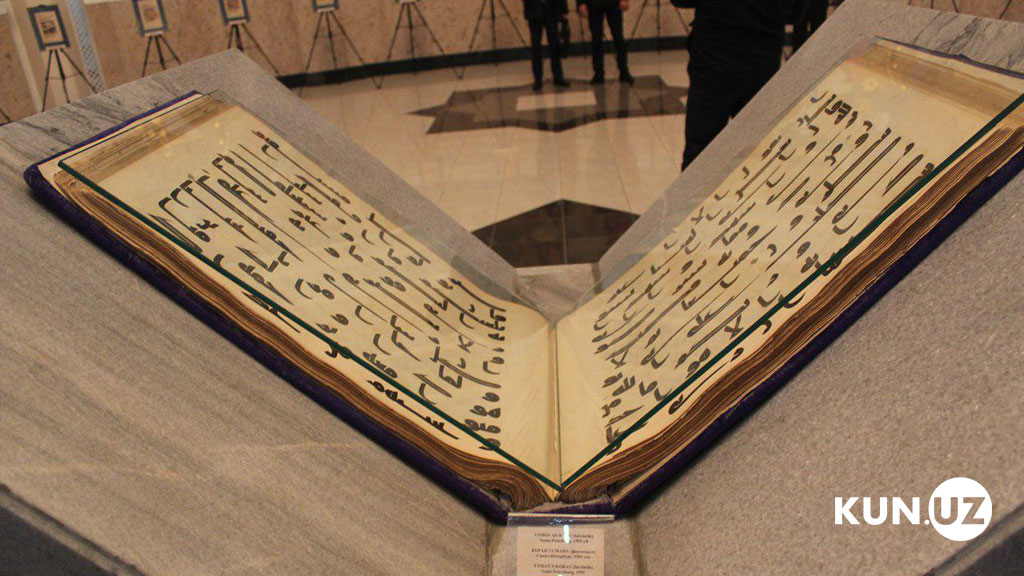 A documentary — "Facts and Myths of the Quran Katta Langar" was filmed. It was shot in Tashkent, Bukhara, Samarkand, the village of Katta Langar of the Kamashi district and St. Petersburg.
The episodes of the film reveal the history of how the pages of the ancient holy book came to Katta Langar, how most of them were sent to St. Petersburg, as well as historical facts and myths related to the Quran, memories of elders and guardians, the history of the "Arabic village".
It should be noted that the Quran of Osman (Usman) is the primary source of holy Islam book written in the mid-VII century. In order to see this relic, sacred for all Muslims, hundreds of thousands of believers and tourists from many countries of the world visit Tashkent annually.
The Quran Katta Langar is one of the oldest and most unique manuscripts of the Quran that have survived to this day. The manuscript was made on parchment in the first half of the 8th century in Kufic script. According to experts, the total volume of the Quran Katta Langar could be 206 pages.
To date, only 97 pages have been preserved. This Muslim relic entered the collection of the Institute of Oriental Manuscripts from the village Katta Langar, Kamashi district, Kashkadarya region. The Institute of Oriental Manuscripts of the Russian Academy of Sciences has 81 pages of this manuscript, 16 pages from the Quran Katta Langar are in Uzbekistan – in the village Katta Langar, Tashkent and Bukhara. The fate of more than half the pages of the unique manuscript remains unknown.
Share: